Saturday, August 30, 2014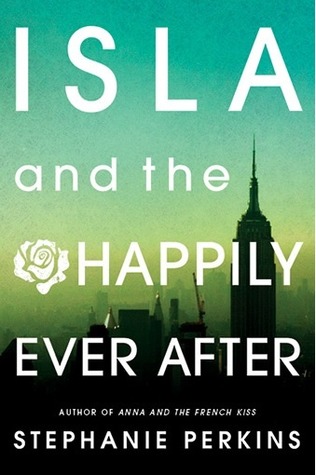 From the glittering streets of Manhattan to the moonlit rooftops of Paris, falling in love is easy for hopeless dreamer Isla and introspective artist Josh. But as they begin their senior year in France, Isla and Josh are quickly forced to confront the heartbreaking reality that happily-ever-afters aren't always forever.
Their romantic journey is skillfully intertwined with those of beloved couples Anna and Étienne and Lola and Cricket, whose paths are destined to collide in a sweeping finale certain to please fans old and new.
4.34/5
My review
I've been waiting for this book for so long I can't even remember. I did forget about it in the meantime, but few days ago I got an e-mail from
Book depository
telling me they already shipped the book and I should get it in few days. At first I was confused, but then I saw I actually pre-ordered it, and I got really happy.
Anyway, back to review.
I enjoyed this one as much as I enjoyed Anna and the French Kiss and Lola and the Boy Next Door. Stephanie Perkins has this way with words, and the scenes she writes are so wonderful and realistic you stop thinking that you're actually reading a book and not sitting on a bench in a park and watching this happening to people around you. As the two previous books, this too had some twists and knots, and scenes that made you throw the book in a corner and crawl in a blanket and cry like a baby.
Everything sorted out in the end. And about that end, I loved it that the author created this perfect scene in which all the characters from the books are seated around a table in restaurant having a conversation. It was really nice to know how they're doing outside the books.
I wish everybody would read this wonderful trilogy, because it is refreshing and it has a way to make you emotional for people you don't even know.
Friday, August 29, 2014
The Ultimate Catch by Constance Phillips


Goodreads 4.1/5
Jolanda will do whatever it takes, even face off against the Bering Sea, to raise the money for a balloon payment on her father's house. She challenges Keller and wins a bet to fill a deckhand slot vacated by her father on Keller's recently inherited crab fishing boat. Unwilling to go back on his word, the young captain must buck tradition and superstition against women on fishing vessels.
Will his season be doomed or will he end up with the ultimate catch?
My review
I loved the story and I loved the characters, especially Jo with her strong and spicy attitude. Her mum Ella annoyed me a little, but she is not so important to the story so never mind. I really liked that the book was set on Alaska and it was kinda perfect for my summer reading when was so hot outside and in the book was so cold
J
. I was really hooked on the book, couldn't put it down.
AS much as it was perfect there were few things that I missed. Passion between Jo and Keller is on the top of my list. Yes he watched her and he wanted her and cared for her, yes she wanted him too but when they kissed it was just that a kiss, I didn't feel they passion and maybe because lately I read a lot of erotic novels I missed more scenes when they do it (I'm not a pervert or anything, but I think it would be fun reading how they explored their desire toward each other.)
I know that the work on the ship was hard, but Jo was really good and I was disappointed that she didn't stick with fishing for the whole season. She went kinda soft at the end which was never in her true nature. I missed little more chapters when Jo was on the ship working and stuff that would go wrong.
But like I said before I couldn't put the book down
J
. Best words that describe The Ultimate catch are Hot and Cold.
Hullo!
We're Kat and Kaya and we created this blog to post our disappointments with a book or just share our happy thoughts about a book that really impressed us.
(
I think sometimes we'll even post some photos and videos of cute animals, just for the heck of it!
)
We hope you'll like our reviews and that you'll have fun in here.
K&K