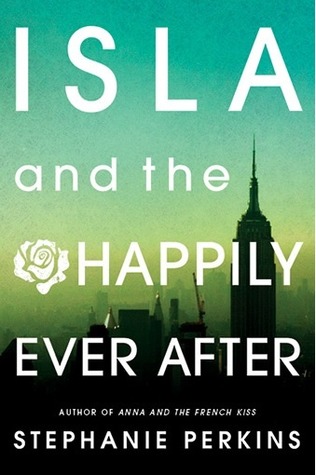 From the glittering streets of Manhattan to the moonlit rooftops of Paris, falling in love is easy for hopeless dreamer Isla and introspective artist Josh. But as they begin their senior year in France, Isla and Josh are quickly forced to confront the heartbreaking reality that happily-ever-afters aren't always forever.
Their romantic journey is skillfully intertwined with those of beloved couples Anna and Étienne and Lola and Cricket, whose paths are destined to collide in a sweeping finale certain to please fans old and new.
4.34/5
My review
I've been waiting for this book for so long I can't even remember. I did forget about it in the meantime, but few days ago I got an e-mail from
Book depository
telling me they already shipped the book and I should get it in few days. At first I was confused, but then I saw I actually pre-ordered it, and I got really happy.
Anyway, back to review.
I enjoyed this one as much as I enjoyed Anna and the French Kiss and Lola and the Boy Next Door. Stephanie Perkins has this way with words, and the scenes she writes are so wonderful and realistic you stop thinking that you're actually reading a book and not sitting on a bench in a park and watching this happening to people around you. As the two previous books, this too had some twists and knots, and scenes that made you throw the book in a corner and crawl in a blanket and cry like a baby.
Everything sorted out in the end. And about that end, I loved it that the author created this perfect scene in which all the characters from the books are seated around a table in restaurant having a conversation. It was really nice to know how they're doing outside the books.
I wish everybody would read this wonderful trilogy, because it is refreshing and it has a way to make you emotional for people you don't even know.